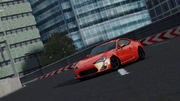 The upcoming Toyota update has been delayed due to "roadblocks beyond the team's control". It is unknown how long the delay will take.
"
Our team is hard at work to surprise you with a different update filled with all sorts of high adrenaline amazing content soon. We also have some HUGE announcements to make as well so please stay tuned.
"
—AR Team
Cars in this upcoming update:
This update was teased by the video on the right, in which an AR developer drifts his own Supra.